Happy 6 years hair. Here is an extensive timeline of my dreadlock journey.
Dreadlocks require quite a lot of time to mature. Looking back mine didn't really appear mature until the second year. Sometimes I miss that first year when my little baby dreads were soft and I still had my curly hair.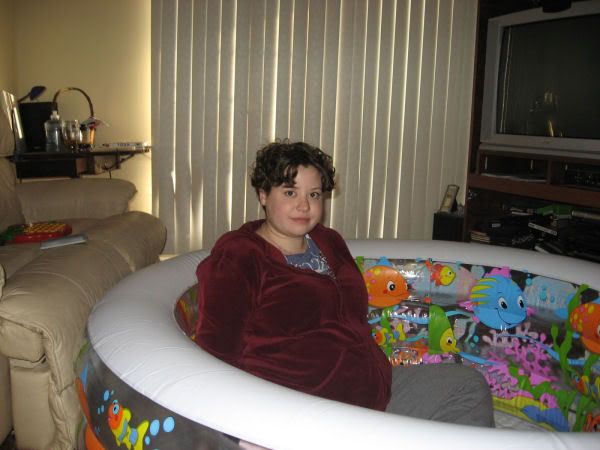 Before. In my homebirth fishy pool 41 weeks pregnant.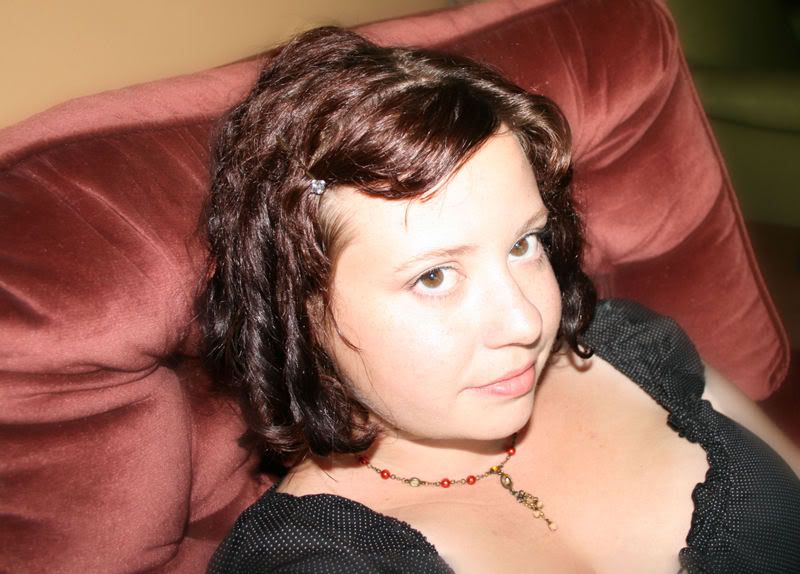 Day 1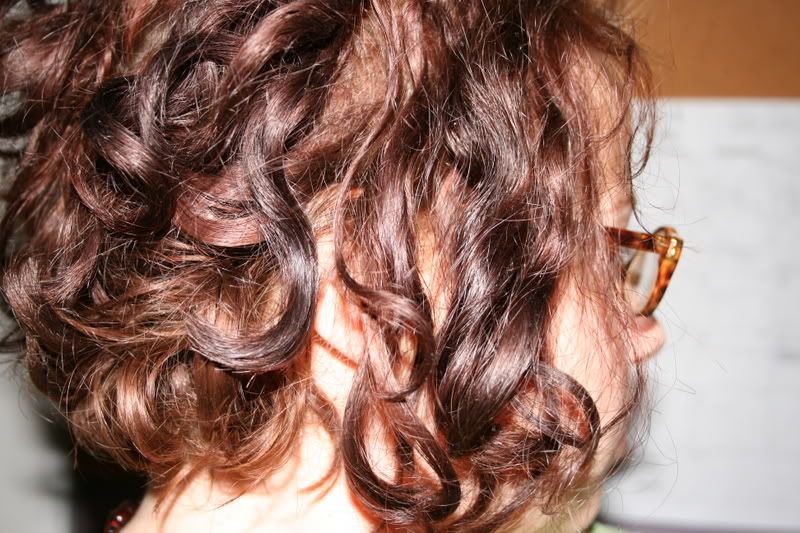 The beginning. Short hair. I liked this haircut. 2008
My dreads are "natural" or "neglect" meaning I just stopped brushing and using conditioner. I let it do what it wanted. It started locking up within a couple months on its own. This method takes a lot longer than sectioning and back combing but I didn't want perfect sections.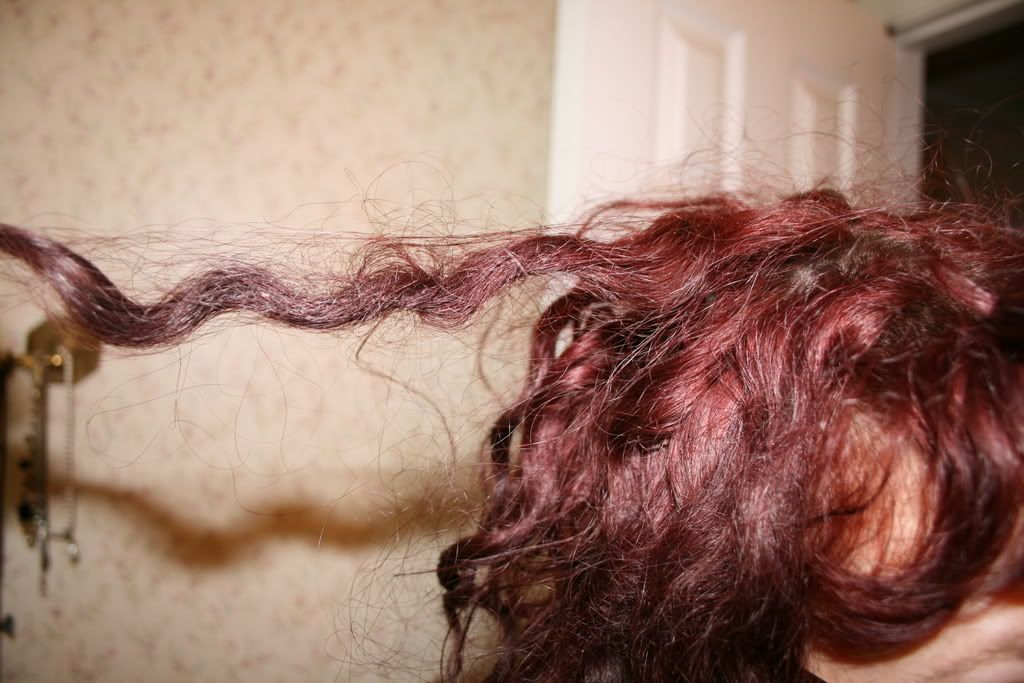 Aww, a baby dreadlet.
My hair has been bleached a lot, to get the red to show up bright. This is pretty hard on dreads.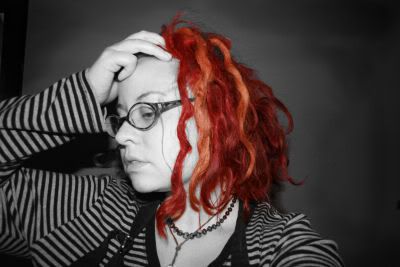 I've had some bright and wild colors, two and three colors at a time a PITA.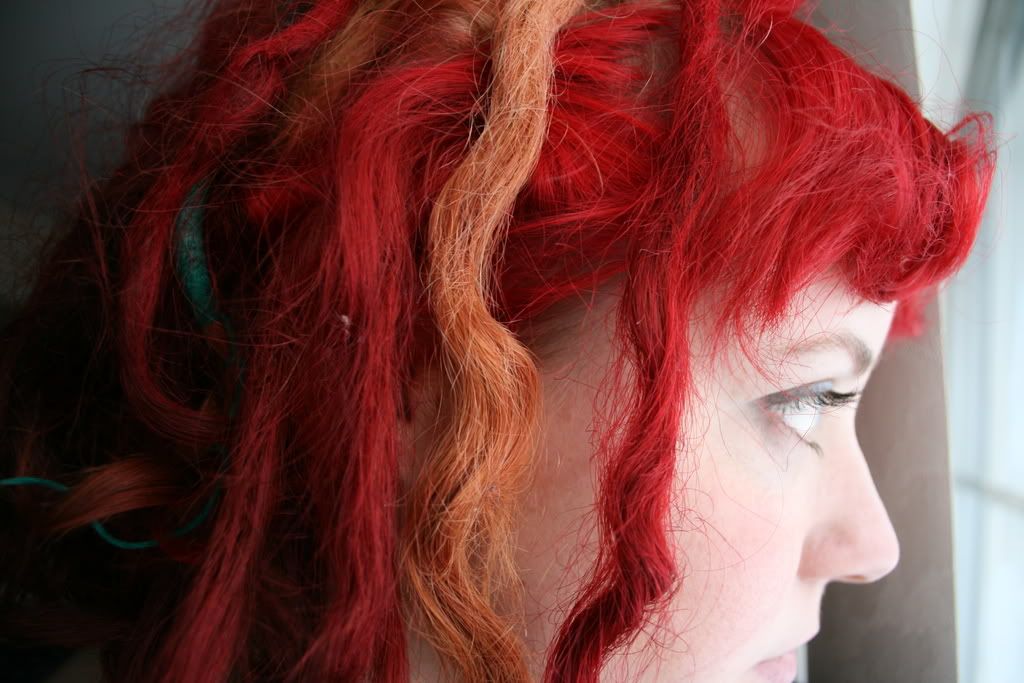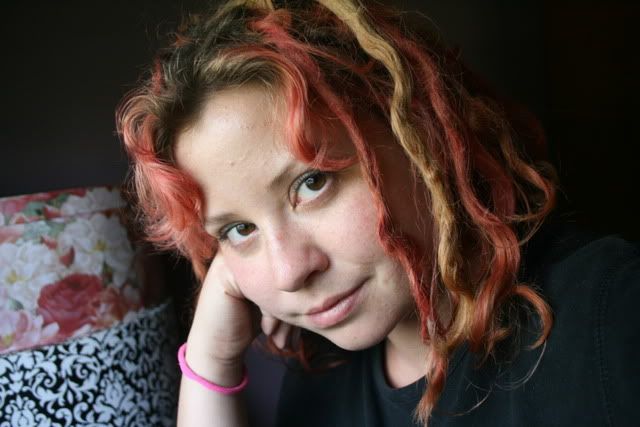 And then it fades and I start thinking I'm really not into the bright thing anymore.
Then we move into the camper and I stop wearing shoes, I have no keys or a driver's license and I only eat raw kale and all hell breaks loose (on my hair).

Eventually I got it all fixed up and dyed again.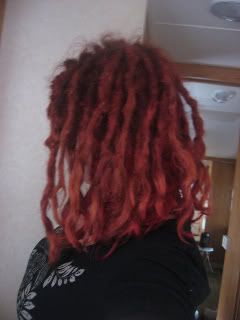 You can see the ends of the dreads aren't knotted up. This is called having "tails". The alternative is to knot up and round off the ends so they look like sausages. I call them dread sausages and I do like them on other people. I eventually did use a crochet hook to round off most of my ends but it didn't really take and that's fine because I prefer tails.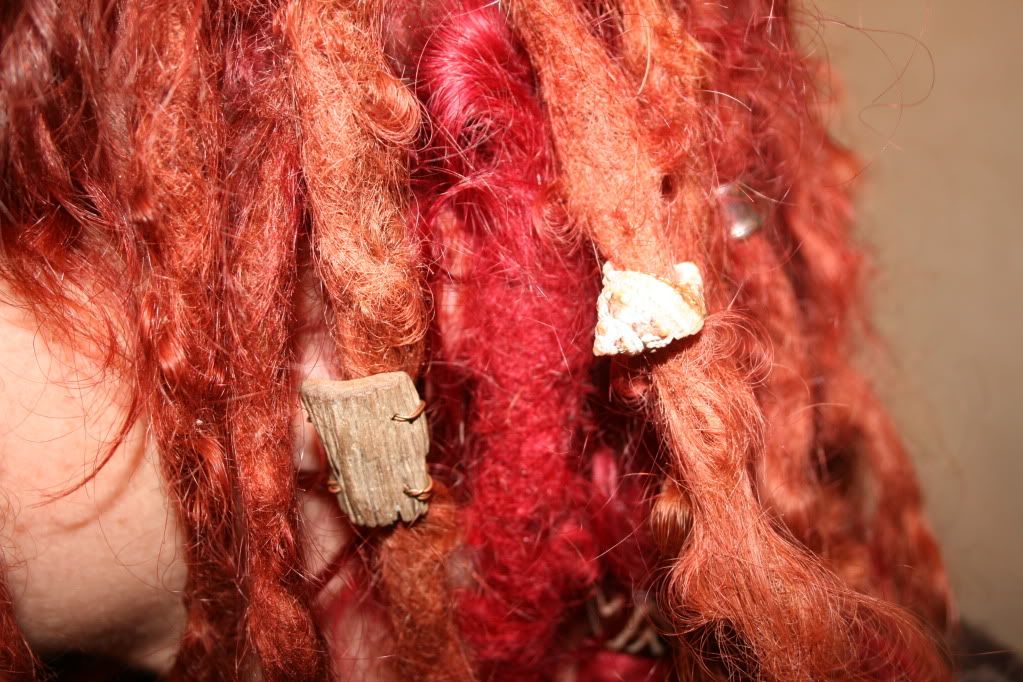 I get to wear all sorts of things. I like bright colored embroidery floss. Here you see a shell and a piece of drift wood crafted into a dread bead with wire. Those were from the northern California beaches. Reminds me of the most amazing time we spent living on the west coast, beach combing every day. Also a wood bead and a silver cuff which was for tapered ears originally. Wow look at those bumpy dreads!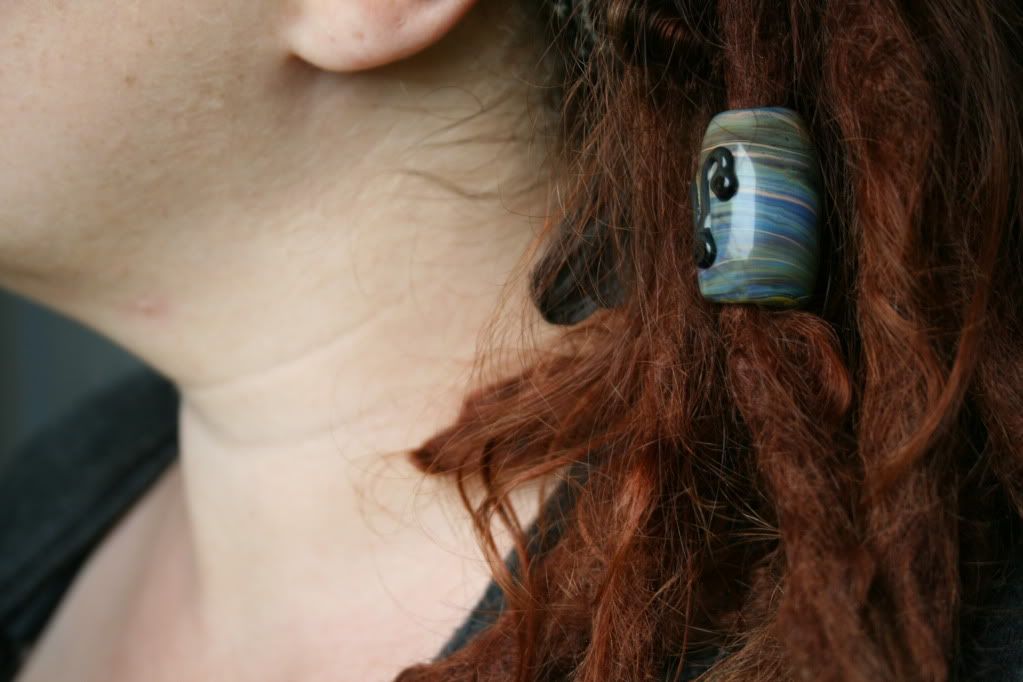 Or how about some hand blown swirled glass beads with your kids' first initial on them?
Then I got pregnant, didn't do a thing with my hair for about 7 months. It was looking pretty "natural" by the time I had him. I got it cleaned up though. It took several sessions and some scissors and lots of palm rolling. Lucky my hubby does a lot of that for me including the dying.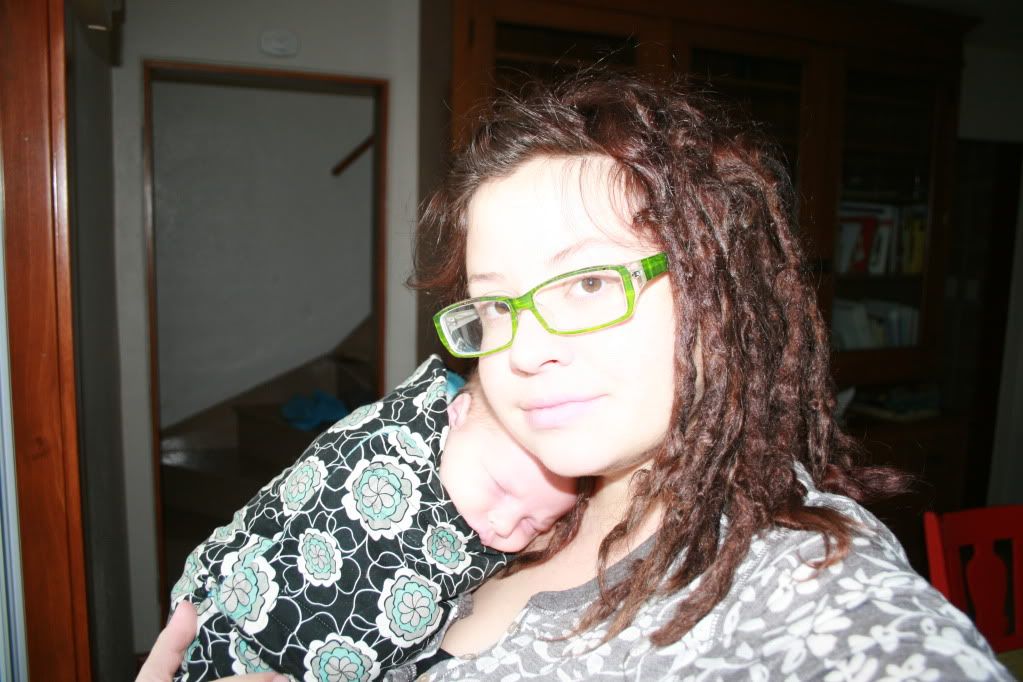 I stopped the high volume bleaching so it's much darker here. You can see lots of my ends aren't taking to the rounding off. Even after 3.5 years I still have a few spots of hair that aren't dreaded and lots of time hairs around the hairline never incorporate into the dreads. In fact a new baby dread was formed just a few months ago!
The best thing about dreads is the giant dread bun. Seriously. The kind that makes you take the head rest off in the car so you can drive. Buying hats is a problem.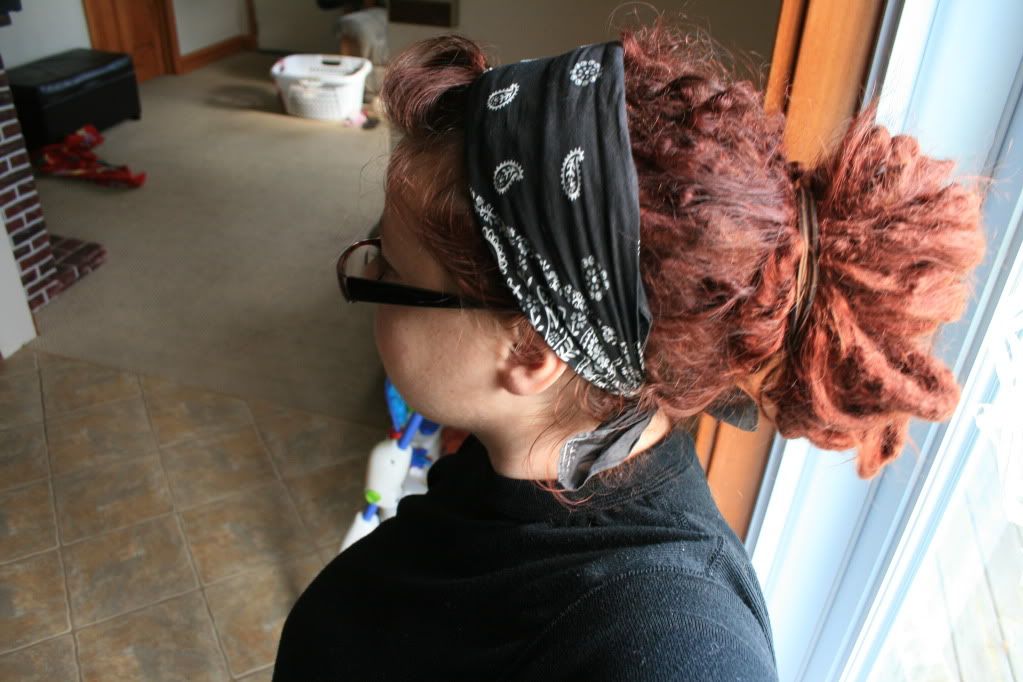 Somewhere around 4 years I stop using hair dye, went back to veggie dye briefly and then henna only. Hubby decides he likes to make me dread decorations.
4 years old
Wedding dreads
5 years old; getting longer! This is what I have waited for.
Look at those tails and that texture.
Ruff Ruff Rasta Dog
I have reached coveted butt length status. Happy 6th birthday you heavy hot ass bastards.
This is the only hair style I've ever had that made me happy. I have no plans to get rid of them.
Frequently asked questions:
I usually wear shoes now and we live in a real house! I'm not a dirty hippie. I don't listen to Phish and I'm really not that big into hooping.
I eat meat.
I don't smoke pot or any other drugs or hang out at music festivals.
I wash my hair just as much now as I did before dreads.
No they don't smell. There is no dirt or wax or anything else in there. Just hair. I have never used styling products.
It's not a spiritual thing for me. I just think they're pretty. It is clear than many people agree and many people disagree with me. 9 out of 10 comments I get are very positive. When people stare I usually assume it's because I'm awesome.
I don't want to be black. Historically, people of all colors had dreads; for example Vikings. I have thick, wavy, textured hair which locked up with little effort.
I am not Rastafarian. I have never listened to Bob Marley.
My scalp is fine. I don't have any crusties or bald spots.
People with dreads do not have to shave their head. They can be combed out. I think I would like to shave them off when the time comes.
Dreadlocks take a lot of time and effort. They are not maintenance free however they are probably lower maintenance than brushable hair. I don't spend a lot of time on mine. I could do more, and they would look tidier but my preference is dreadlocks that look more natural. Some people prefer very natural (not washed or tidy) and some people prefer very tight and tidy. I'm in the middle.